VENUS DODSON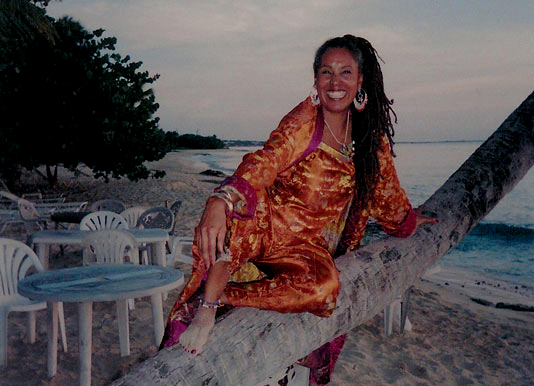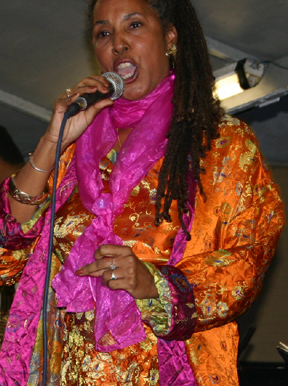 ---
Venus Dodson has the uncanny gift of caressing one with awareness. Her voice is as soothing as the spray of an ocean wave on the wings of a zephyr, yet, her message is one of continued spiritual vigilance. There is no place on earth nor in sky, where time will not stop to listen.
Venus weaves her musical dreams both from the pastel, seaside communities of the Virgin Islands as well as from the eclectic and rhythmic neighborhoods of New York City.
Yes. It's Time!
Richard Cummings
---
---
"So, you found me!

I'm sun drenched and happily making music in the Virgin Islands and around the world.
When New York's only jazz station went off the air and so many of the best live venues were becoming discos, I knew it was time to leave so that I could continue to live and to sing the music I love. I was very blessed in the early part of my career. I had the pleasure of working with great musicians and picking from the tree of ripe opportunities. During this time, I was able to introduce many of my own compositions, recorded and performed live. Thanks to and because of these musicians' unconditional love and support, I was able to realize my greatest dream: to touch the soul of humanity. There's nothing more wonderful than knowing why you're here and for me, it's music, my life saver; it anchored me with love and let the wonders of the universe unfold!"
Background Information and Production Credits:
Songwriter member of BMI
Writer and/or session vocalist in commercial advertisements for:
Virgin Islands Board of Tourism
Calpario Travel Agency
Cata Nevada Champagne
Recordings and Major Performances:
Warner Brothers RFC - Night Rider and the original Shoot Me With Your Love
Promotional media tour for Warner Brothers album Night Rider in Milan and Rome, Italy
International Jazz singing tour of France and Germany
Toured as a member of the Marvelettes
Published Compositions and Productions (writer/vocalist):
It's my Turn - Venus Dodson - Night Rider Album
Sexy Lady - Hank Ballard
Girls - Moments
Smile - Art Web
Make Me a Family Man - Day Break
Fascinating Devastating Man - Eleanor Mills
Rhythm is Hot - Kay Gees
It's Time - Venus Dodson
Message... Past Future - Venus Dodson
Backing Vocalist - Tours
Major Harris
The Marvellettes
Baba Olatunji
Disco Tex and the Sex-O-Lettes
Backing Vocalist - Recordings
The Moments
Hank Ballard
Eleanor Mills (this body of work done at All-Platinum)
Herbie Mann (Superman)
Art Web
Sign
Phreek
Christmas Album - RCA
Day-Break
Cloud One
Universal Robot Band
Roller Disco
Salsoul Orchestra
Kay Gees
Weeks and Company
(most of this was done in conjunction with Patric Adams Production company)
---